You're never too old or too young to start a daily skin care routine. There's nothing vain or feminine about it – a guy with a solid, energized face gets noticed!
A daily skin care routine will benefit you now by keeping skin firm, clear, and bright. Things will just get better years from now, when everyone else will start to wrinkle and you'll not.
Your face is (usually) the first thing people see, and the last thing they forget. And in the 21st century, men are taking better care of it (and investing in professional products) more so than ever to keep their skin wrinkle and blemish-free. Don't worry if you're a little behind, we at Glamrada have streamlined your routine so that you, too, can put your best face forward. Here's how to take care of your skin to look great all day.
First of all,
Learn Your Skin Type
Most guys don't know their skin type. Frankly, many guys don't even realize skin has "types". Learning your skin type is the first step in taking care of your skin.
Once you know your skin type, things get a lot easier. Use men's skin care products that match your skin type as you follow the skin care routine detailed below. Most product's packaging indicates the skin type it's been made for.
Cleanse
The foundation of great skin and a bright complexion is clean skin.
Every morning, wash your face with a men's facial cleanser that is made for your skin type. Cleansing first thing in the morning refreshes you by removing dull skin and impurities.
Before you go to bed, wash your face to prevent oil and other pore-clogging bacteria from sitting on your face all night.
As you apply the face wash, gently rub in circles. Don't rub vigorously. Facial skin is very sensitive. When you're done, rinse with cool water to close the pores and then pat dry. Never rub your face dry; stretching the skin can introduce premature wrinkles.
Washing your face more than twice a day is completely unnecessary. We're talking to you, guys with oily skin.
Scrub
Scrubbing (exfoliating) your face should be done 1 – 3 times a week after cleansing your face, depending on your skin type. Guys with oily-type skin should exfoliate more often, while men with sensitive/dry skin should do it less often.
Exfoliating removes dead skin cells and other build up on your skin. That helps new, healthier skin cells reveal themselves, improving your complexion.
Before a shave, scrub the shave area. This discourages ingrown hairs and bumps. Not enough men take the time to prepare their skin before shaving.
Take it easy – overusing a scrub can cause dryness, irritation, and excess oil production.
Hydrate
Hydrating the face, or moisturizing is nothing more than applying a men's face moisturizer to your skin.
Moisturizing offers plenty of benefits: it makes the skin firmer, prevents water loss, and has an anti-aging effect.
After washing or scrubbing your face and thoroughly patting dry, apply the moisturizer to your entire face. Take special care to hydrate around the forehead and eyes.
Eye cream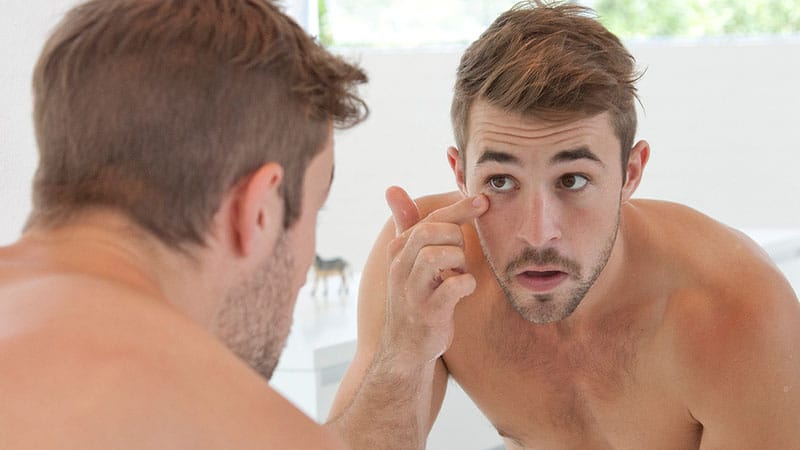 We know what you're thinking—girly, right? Wrong. If you want to age more like George Clooney and less like Mick Jagger, then we suggest slowing down the aging process by applying a hydrating eye cream twice daily.
The skin in your eye area is the thinnest on your entire body, so it's one of the first spots to show aging. Regular care will help slow the visible signs of aging and fatigue.
SPF
If you are going to be in the sun for longer than 30 minutes, use sunscreen on all exposed parts of your skin. Nothing will age and damage your skin faster than the sun. Make sure to use sunscreen that has at least SPF 15.
Face Masks
We know, we know: Are we seriously recommending a facial mask for men? Hell yes, we are! Who doesn't want a little pampering?
Plus, it'll help clear up your skin and give it a healthy glow, especially if you have oily skin.
Skin care doesn't need to be complicated. With as little as three-four products, you can have a robust and effective skin care routine.